Non-contact Thermometer
Accuracy: Body mode: ±0.2℃(35.0~42.0℃),Measuring range: Body mode: 32.0~ 42.9℃
Model: FR800

Order NO.: FR800
324
Specific parameters will be adjusted according to product upgrades, without notice.

PRODUCT OVERVIEW
Description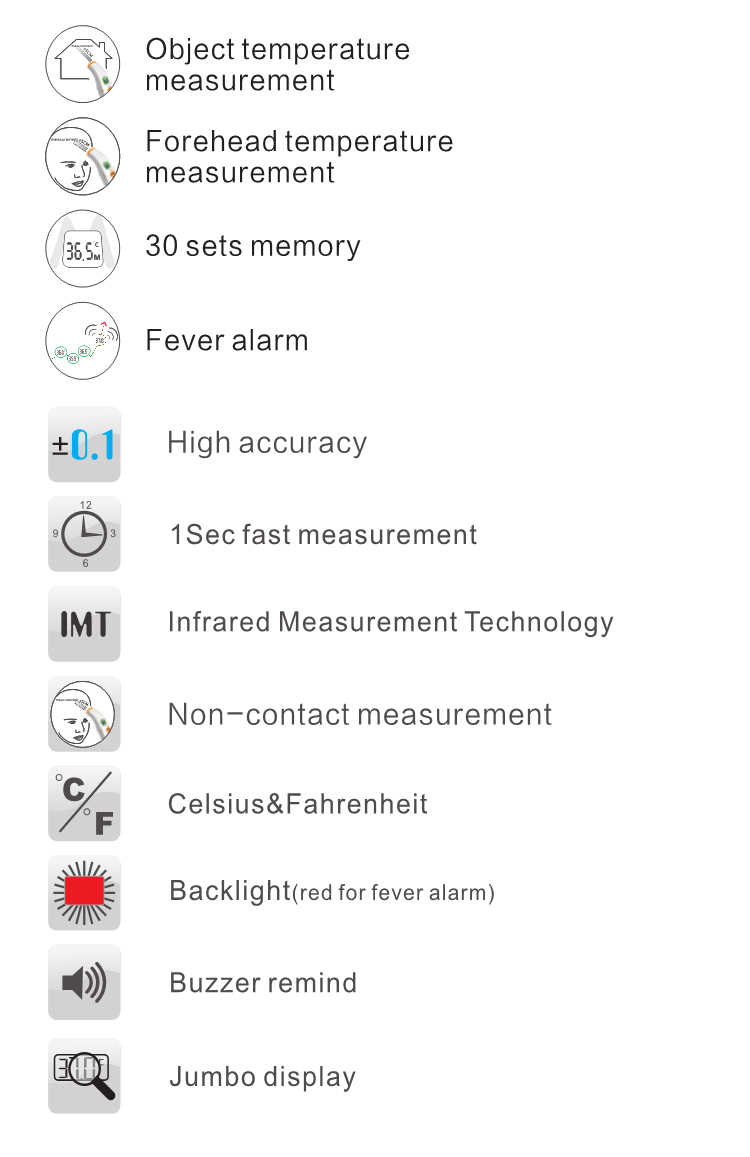 Specification
Product name: Non-contact Thermometer
Model: FR800
Battery: DC 3V (DC 1.5V AAA 2PCS)
Size: 150mm (L)X45mm(W)X40mm(H)
Weight: About 82g (with the battery)
Accuracy: Body mode: ±0.2℃(35.0~42.0℃)
Object mode: ±0.5℃(0~100℃)
Measuring range: Body mode: 32.0~ 42.9℃
Object mode:0~100℃
Storage/transportation temperature: -20℃ to 55℃
Relative humidity<85%RH
Measuring distant: 3-5cm

Packing List
Packing type: cartons
Qty per CTN: 40pcs
Dimension: 380*300*410mm (L*W*H)
Gross Weight: 5.8kgs
Net Weight: 5.0kgs
Qty per Container: 23900pcs/20FT 49600pcs/40FT
P.S:Estimated actual available CBM 20Ft=28cbm 40Ft=58cbm

Warranty
We guarantee the non-contact thermometer FR800 2 years warranty.
This product has been produced with the greatest care according to international quality standards
established in the European Guideline for Medical Products 93/42/EEC ,
and it was subjected to strict testing before delivery.

Is this information helpful?
CONTACT

WIGGENS GmbH
Gässlesweg 22-24, 75334 Straubenhardt, Germany
Tel.: +49 7248 4529088
E-mail: info@wiggens.com


WIGGENS CHINA
Room 426, Hall A, Office Building M8, No. 1 Jiuxianqiao East Road, Chaoyang District, Beijing
Tel.: +86 400-809-2068
info@wiggens.com
www.wiggens.com